The Junk Beats programs includes an instrument making workshop from recycled materials (that the students get to keep) and or a workshop where the students learn a junk percussion/drumming piece of music. A fun musical experience that takes the "dogma" out of music & connects children to the origins of the instruments that we see & take for granted today. The program links to themes such as sustainability, resourcefulness and recycling, whilst also making music (and ongoing music) accessible to children without the recourses to purchase traditional instruments.
Choice of 1 hour, 2 hour or 3 hour workshop program
Sydney, Brisbane, Melbourne
Session Includes
1-3 x Musicians/Facilitators
A captivating junk drumming performance
Every Child making & or playing a junk drum & performing Body & vocal percussion
Children develop creativity, listening skills & teamwork
Did you know?
The makeup of the modern day drum kit was completed with the "High Hats". High Hats have evolved from Cymbals which were first used in the Ottoman Empire for daily rituals and ceremonies, in fact the world renown Zildjian company was founded at this time (17th century) in Constantinople.

Recycled Instruments Overview
In recent times Broadway shows such as Tap Dogs & Stomp have captured the publics imagination. Highly skillful tap dancers & percussionists have performed amazing percussion pieces that reintroduced the idea of making music from anything. 'Reintroduced' because the musical instrumnents that we take for granted today have all evolved over the centuries from more rudimentary origins.
This workshop aims to connect children with their environment to see surrounding objects in a different way – as they see how anything can become a musical instrument.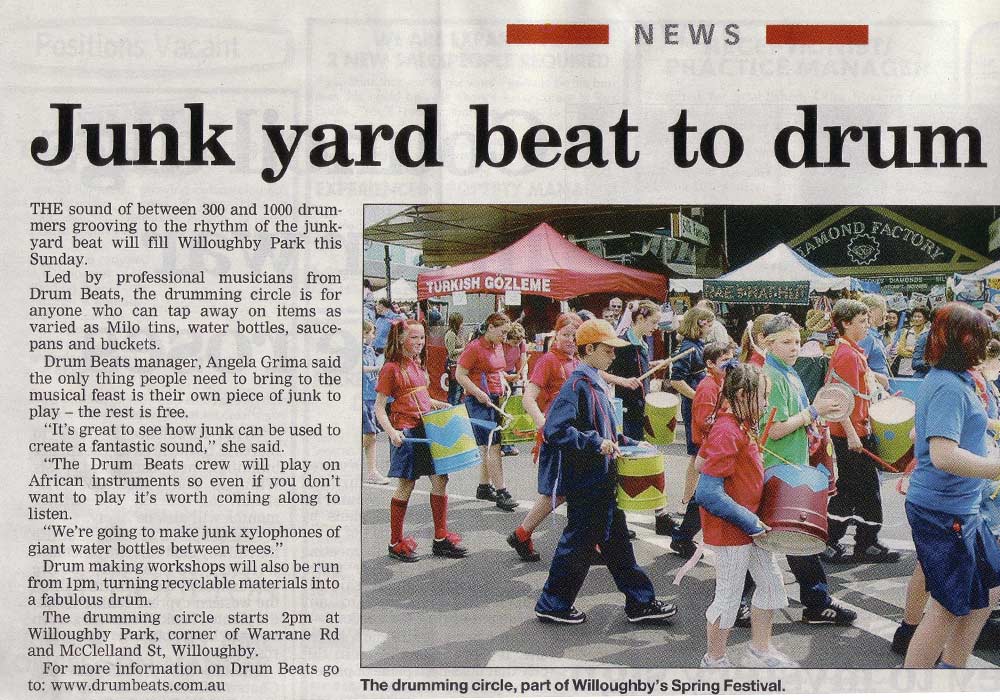 150 – 200 Students per performance for the mass participation shows
 Up to 30 students for the smaller group sessions
Suggested durations
ES1 & Stage 1 – 30 to 45 minutes
Stage 2 & 3 (Ages 8 to 12) – 45 to 60 minutes
Stage 4, 5, 6 (Ages 12 —>) – 60 to 120 minutes
What to Wear?
Usual School clothes or Loose fitting/PE clothes & sports shoes
Requirements
Hall or empty classroom with enough room for the children.
For the larger shows in the hall a microphone on a stand will be helpful.
For bookings & other information contact us on 1300 189 187